TNPSC Agricultural Officer Recruitment 2020 is being conducted for 192 posts. Here we have discussed TN PSC AO Syllabus 2020 , Previous years Question Paper, Admit Card Download Link and other details for the exam. Exam pattern and detailed TNPSC Agricultural Officer Syllabus 2020 of Paper 1 (Agriculture) and paper 2 (General Studies) Exam for Tamil Nadu PSC Agricultural Officer can be downloaded here.
The TNPSC Agricultural Officer Syllabus 2020 has been taken from www.tnpsc.gov.in advertisement no 09/2020. Also for preparation for the TNPSC Agricultural officer recruitment test 2020, we have given some valuable information about study materials, question paper, which will help you for the upcoming exam.
You will also be able to find out proper guidance, admit card downloading dates & links, old years cut off marks, solved model question paper side by side the recruitment details, eligibility criteria, age limit and application form applying process. தமிழ்நாடு வேளாண்மை அதிகாரி ஆட்சேர்ப்பு 2020 க்கு விண்ணப்பிப்பதற்கான விண்ணப்ப படிவம் தொடங்கப்பட்டுள்ளது.
TNPSC Agricultural Officer Recruitment 2020 Application form @ tnpsc.gov.in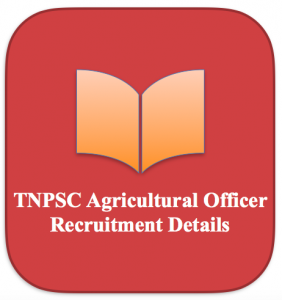 Interested to know details of the Tamil Nadu Agriculture Officer Recruitment 2020 ? Therefore, you will come across various details on TNPSC AO Exam Syllabus 2020 and recruitment procedure.
You must go through the details about the selection process and the eligibility criteria details which we have listed below in tabular format. Based on the performance on written test consisting of General Studies & Agriculture Paper, eligible and enthusiastic candidates will be recruited.
TNPSC Lab Assistant Solved Previous Question Paper Download.
Tamil Nadu AO Notification 2020 – Download Advertisement / Dates of Application of விவசாய அதிகாரி ஆட்சேர்ப்பு

Exam Name
TN Public Service Commission
Location
Tamil Nadu
Vacancy
192 Posts
Post Name
Vacancy
Age Limit
Eligibility
Salary
Agricultural Officer (AO)

192

Minimum Age – NA
Maximum Age –
General (B.Sc Holder)s: 30 Years
General (PG Holders): 32 Years
No Age limit for Reserved candidates.
BSc Agriculture with knowledge of Tamil Language
37700-119500 (Level 20)
Exam Fee
General Registration fee – 150 + Exam Fee – 500.
Application Form Fill Starts From
03-05-2020
Last Date of application form fill up
2-06-2020
Date of Exam (Paper 1 & Paper 2 Both)
14-07-2020
Apply Online Link
Click here.
Recruitment Notification Download for AO Posts
Click here.
Official Website
www.tnpsc.gov.in
Now as you have seen all the details of the recruitment notification and eligibility criteria for the AO Exam 2020, we will talk about the TNPSC Agricultural Officer Syllabus 2020 and examination pattern for the test. Written test will be conducted for the purpose of selection.
Based on the merit list of the written exam, shortlisted candidates will be selected for interview. Cut Off Marks will be decided by the authority of TN PSC. After clearing the interview process, contenders will get placed.
TNPSC Agricultural Officer Exam Syllabus 2020 & Pattern – Download PDF
We have gathered information regarding the recruitment test TNPSC Agricultural Officer Syllabus 2020 for the written test of AO along with the exam pattern and recruitment process.
Selection process of TNPSC AO Exam
Written Test – 500 marks.
Interview & Records – 70 marks.
Exam Pattern of TNPSC AO Exam Question Paper 2020
Name of Paper

Subject Name

Standard of questions

Number of Questions

Marks

Duration of Exam

Paper 1

Agriculture

Degree Standard

200

300

3 Hours

Paper 2

General Studies

Degree Standard

75

200

2 Hours

Aptitude and Mental ability

SSLC Standard

25
Exam Center / Venue of OMR or CBT
Chennai
Coimbatore
Tirunelveli
Madurai
Tiruchirappalli
Salem
Thanjavur
Detailed Syllabus of TNPSC Exam Paper 1 – Agriculture
IMPORTANCE OF AGRICULTURE
Importance of Agriculture in Indian Economy and its sectoral relationship – Agricultural Development through five year plans in India and Tamil Nadu – Growth pattern of crops in India and Tamil Nadu in terms of area, production and productivity – Government Agricultural Policies – Agricultural development through NITI AYOG – Import and export – Role of NSC, FCI and PDS.
FUNDAMENTALS OF CROP PRODUCTION
Factors of Production – Agricultural seasons of India and Tamil Nadu – Cropping patterns in India and Tamil Nadu – Package of practices of different crops – Agro-Climatic zones of India and Tamil Nadu and their features – Weather and Climate – Weather forecasting – Climate change and its impact – Minimal tillage practices – Stress mitigating technologies including microorganisms – Nanoparticles and their applications.
NATURAL RESOURCE MANAGEMENT
Soil – Soil structure – Factors influencing soil structure – Physical and Chemical properties – Effect of nutrient availability and plant growth – Problem soils and their management – Soil survey – Its objectives and scope – Soil fertility and productivity – Dry farming – Rainfed agriculture – Conservation of soil and water – Watershed and waste land development. Land use pattern and planning – Size and distribution of holdings – Types TNPSC Agricultural Officer Syllabus 2020 and systems of farming – Water resources development and management – Command area development – Ground water Development and Conjunctive use – Water use efficiency – Quality of irrigation water – Its effect in soil and crops – Management of poor quality water for crop growth.
CROP MANAGEMENT & ALLIED AGRICULTURAL ACTIVITIES
Cropping systems and integrated farming – Recycling of agricultural waste – Organic manures, green manures, bio Fertilisers – Balanced usage – Integrated nutrient management – Physiological disorders in crop plants and their management- Irrigation management of different crops Mushroom cultivation, bee TNPSC Agricultural Officer Syllabus 2020 keeping, silkworm rearing etc., Energy in Agricultural production – Sources – Solar, wind, animal, biomass and biogas – Mechanisation in agriculture – Tractors & tillers – Agricultural implements and Machineries and their usage – livestock and poultry rearing.
CROP IMPROVEMENT
Principles of breeding – Breeding methods in self , cross and vegetatively propagated crops – Modern tools in crop improvement – Heterosis breeding and Hybrid seed production technologies – Latest varieties of major crops in Tamil Nadu – Breeding for climate resilience varieties – Variety release procedures – Application TNPSC Agricultural Officer Syllabus 2020 of bio technology in agriculture – Tissue culture & its significance – Transgenic Plants. Plant Genetic Resources:Collection conservation and exchange-Crop varietal protection-PPV& FR authority and its role.
SEED SCIENCE AND TECHNOLOGY
Seeds – Importance of quality seeds in agriculture – Nucleus, breeder, foundation, certified and labelled seeds – Seed certification techniques and processing in Tamil Nadu – Seed testing – Seed testing laboratories-ISTA standards for seed testing – Seed village concept Seed Act – Seed coating and priming technologies – Seed enhancement technologies.
CROP PROTECTION PRINCIPLES AND PRACTICES
Importance of pest, disease, nematodes and weed management in agriculture – categories of pests, diseases, nematodes and weeds – Pest and disease surveillance and forecasting TNPSC Agricultural Officer Syllabus 2020 weather on pest and disease incidence – Symptoms of damages and control measures of pest, disease and nematodes of major crops in Tamil Nadu – Integrated pest, disease and nematode management in crop production – Pesticides and their use in IPM – Mode of action – Pattern – Plant protection equipments and their use – Plant quarantine. Storage pests, disease and nematodes and their management. Importance of biological control in pest, disease and nematode management. Weeds – Major weeds and their control.
FARM BUSINESS AND FINANCE MANAGEMENT
Farm business management – Principles of farm business management – Types and systems of farms-Classical production functions – Cost concepts – Management of resources – Farm Planning and budgeting – Investment analysis – Risk and uncertainties in agriculture – Agricultural credit system in India – Multi credit delivery system – Role of nationalized banks, NABARD and Regional Rural Banks – Lead Bank Scheme – Service area approach – Scale of finance-Credit Worthiness-3 Rs,5Cs and 7Ps of credit- Crop Insurance – Kisan Credit Cards (KCC) – Agricultural Insurance Company.
AGRICULTURAL MARKETING AND MARKET INTELLIGENCE
Marketing – Agricultural marketing – Market structure – Marketing efficiency – Price SpreadMarket Integration-Market Risk-Speculation and hedging – Market Institutions- Warehouses and rural godowns – Agmark-Cooperatives – Commodity Boards – Agri business management – Principles of Management-Entrepreneurship Development – Forms of Business organizations – Agricultural Price Policy – CACP-MSP – FRP- Procurement PricePolicies for agricultural development – Economic liberalization – WTO and its impact on agricultural export – Importance of Agriculture in Indian economy – Land size and distribution of holdings and land use pattern in Tamil Nadu – Agriculture under Five year Plans (FYPs) – Food Security – Public Distribution Systems (PDS) – Buffer Stock.
AGRICULTURAL EXTENSION: PRINCIPLES AND METHODS
Extension methods for transfer of technology – AV aids-Communication models – Use of ICT in transfer of technology-Diffusion and adoption- Pre and post independence rural development initiatives: key features, strength and weakness of individual programmes – Programme planning and evaluation methods- Rural sociology – Key features of Indian rural system-Value system-Social change- Rural migration. Role of women in agriculture.
Paper 2 Syllabus
General Science
Current Events
Geography
Indian History
Polity
Indian Economy
INM
Aptitude & Mental Ability Test
Previous Question Paper of TNPSC Agriculture Officer Exam
தமிழ்நாடு வேளாண்மை அலுவலர் ஆட்சேர்ப்புச் சோதனையின் பழைய கேள்விப் பத்திரங்கள் எதிர்வரும் பரீட்சைக்குத் தயாரிக்க நிறைய உங்களுக்கு உதவும். So, we have provided some Solved Questions Papers of Previous years along with answer keys which you can download easily in PDF format.
Question Paper of Assistant AO 2017 – Fully Solved
AAO Old paper in TAMIL NADU AGRICULTURAL EXTENSION SUBORDINATE SERVICE (Exam Date 2-07-2017)
1
2
Study Materials for Agriculture Officer Recruitment Exam 2020
For Agriculture & General Studies, we have given some links of subject wise model MCQ Questions Answers –
Agriculture MCQ Questions Answers Download PDF
General Knowledge MCQ GK Questions Answers Objective Paper
Indian National Movement MCQ
Indian Polity MCQ Question Answer Objective Model Paper
Helpdesk-
So, if you have any problem regarding application form fill up for TNPSC Agriculture Officer Recruitment 2020, you can contact on the following toll free number of Tamil Nadu Public Service Commission.
Official helpline – 1800 425 1002.
We hope our post regarding TNPSC Agricultural Officer Recruitment 2020 –TNPSC Agricultural Officer Syllabus 2020 Exam Pattern, Selection Process and Old Question Papers have helped you. For more similar posts and study materials, solved previous years question paper, visit www.jobsandhan.com.
The post TNPSC Agricultural Officer Syllabus 2020 Download Exam Pattern appeared first on JobSandhan.Com.
Category : jobsandhan,TNPSC Recruitment